Is your boat's mechanical steering system stiff or sloppy?
As boats age, their steering cables can become worn or damaged. This can manifest itself in a variety of ways, such as excessive play in the steering wheel, stiffness when turning it, and in some cases even a complete freeze up of the system. This can be extremely dangerous for the boat and its passengers if not addressed.
Uflex USA offers solutions with both Rotary and Rack & Pinion Steering Kits and replacement cables.
Go2marine recommends the Rotech Rotary System for outboards under 150 HP as well as Inboards and Sterndrives for it's versatility compact design and positive feel.
What makes the Uflex Rotary Systems different from the competition?
Uflex USA offers a patented helm unit with a planetary gear system consisting of 6 points of contact that results in a smoother more positive feel at the helm.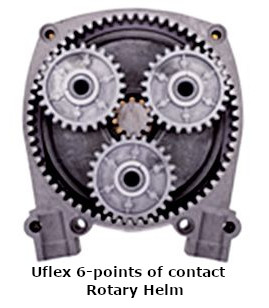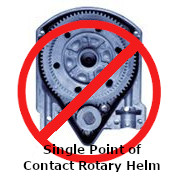 Wether replacing a Rack & Pinion or a Rotary System the Uflex Rotary System will bolt up in place of your old system without any modification.
What about larger outboard engines and sterndrives?
For larger outboard engines and sterndrive units (without power assist steering), Go2marine recommends the Accura System with the Zero Torque Feedback Helm Units. The Accura System utilizes a spring clutch helm unit that eliminates the continuous load on the steering wheel so you don't feel feedback torque.
Uflex USA also offers the components you need if you are looking to add, upgrade or convert your Rack & Pinion or Rotary Steering System to a tilt helm.
If you need help identifying your old steering system, finding replacement cables, helm units or measuring for a new Steering System call the specialist at Go2marine (800) 998-9508 or shop online at Go2marine.com.