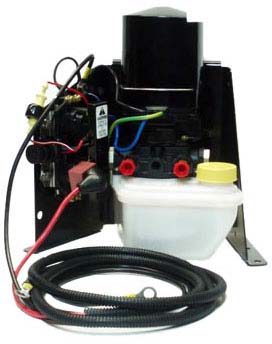 When replacing your Power Tilt and Trim Motor, first identify what type of Power Tilt and Trim Motor and Pump you have in your boat. There are two basic types of power Trim and Tilt Systems being used in the recreational Boating industry regardless of weather you have an Outboard or an I/O Sterndrive.
Some of the older Power Tilt and Trim Systems used an Electric Tilt Motor in combination with a mechanical lifting device. For example, Volvo Penta used a 12-Volt Power Tilt Motor turning a lifting screw on their older Stern Drives. On older OMC Stern Drives, an electric Motor turned a Worm Gear and incorporated a wet clutch pack to Tilt the drive unit as well as lock it into place. The Electric Hydraulic power Trim and Tilt System is more common. This type of system is used on Johnson and Evinrude Outboards, Mercruiser Stern Drives, Mercury Outboards and Volvo Penta Stern Drives. This system consists of two major components; the 12 volt electric Motor with a reservoir, and the Hydraulic Pump or Valve Body.
Trouble Shooting Your Power Trim and Tilt System
When experiencing problems with your power Trim and Tilt System, there are a few easy ways to diagnose just what the problem is. Power Trim Motors generally come in two styles. All use a 12 volt D/C reversing Motor. Some Motors have a two wire connection and some Motors have a three wire connection. All power Trim and Tilt Motors come with one blue wire and one green wire. The three wire power Trim and Tilt Motors have an additional Black wire as well. The Black wire works as a Ground on power Trim and Tilt Motors that don't ground thru the case. When the blue wire is energized it raises the Motor or drive unit up. When the green wire is energized it lowers the drive unit down.
When having a problem first you need to determine whether your problem is with the power Trim and Tilt Motor or the Hydraulic Pump Valve Body assembly. If you attempt to raise the Motor or sterndrive to the up or down position and nothing happens, first check to make sure your Battery is charged and switched on if your boat is equipped with a Battery switch. If you hear a slight clicking noise you have power coming from the switch to the solenoid. The next step is to go directly to the Motor and test it there. First, disconnect the power Trim and Tilt Motor.
Using a jumper wire, apply 12 volts directly to the blue wire if your engine or drive unit is in the down position. It should raise up at this time. If it is in the up position, apply power to the green wire reversing the Motor and lowering the unit. If the Motor runs, you may have a problem with a solenoid or lack of voltage coming from the power Trim and Tilt switch to the solenoid.
If your power Trim Tilt Motor won't run after this procedure it is time to replace it. Some replacement Power Trim and Tilt Motors will come with a new wiring harness and relay kit to convert your old three wire power Trim and Tilt Motor to a new more powerful two wire Motor.
Power Trim and Tilt Pump Problems
If your power Trim and Trim Motor is working fine but the engine or drive unit won't stay Trimmed or bleeds down when in the up position, you most likely have a problem with the Hydraulic pump or Valve Body assembly. In that case it can be removed and rebuilt by a qualified repair facility. Replace the power Trim and Tilt hydraulic pump unit and fill the reservoir with the correct Power Tilt and Trim Fluid per your owner's manual. Generally, Transmission fluid is not recommended. It can be hard on some seals due to the high amount of detergents. Most power Trim and Tilt units will purge the air from the system just by running the engine or sterndrive up and down two or three times with the vent plug loose.
Bottom line
If the motor works in one direction there is nothing wrong with the motor. The most common issue is a bad solenoid on a 3-wire motor or a bad relay on 2- wire motor. If the motor runs but won't raise or lower the drive or outboard engine, check the fluid level first. If the level is full there is a problem with the pump. Stern Drive Engineering formally API makes a direct replacement for many models (in some cases your only option is to have the old pump rebuilt).
Hope this helps you repair your tilt/trim system so you can get out and enjoy your boat. If you need any parts, visit us at Go2marine.com, or call toll free 1-800-998-9508.
Article by: Michael Weller
Go2marine.com
Sales Manager
Engine, Propulsion and Steering Systems Specialist