If we've heard it once, we've heard it a thousand times: Alaska, though beautiful, is a tough place to live and work– hence Alaskans are tough folks.
But it's true. Especially when it comes to working the boats on the famously rough Alaskan seas. For anyone who's watched one of the reality fishing shows that takes place on the fierce waters of Alaska during a storm, it isn't difficult to recall images of ships bucking upon the waves like maddened broncs, or rolling to the point of nearly capsizing as the crew skids helplessly from one side of the slippery deck to the other, desperately grasping at stationary objects as they slide by.
Despite the storms, rain, and frigid cold and icy decks in winter, not to mention the toll commercial fishing takes on the body, there are those who would rather do nothing else for a living. For them, fishing is more than a livelihood; it's their lives. And XtraTuf has the boots these folks practically live in while they're on the boats.
Through Rain, Sleet, Ice, or Snow
Who doesn't love sneakers? Those ubiquitous, all-purpose shoes are so practical and comfortable, you see them everywhere. Many people own more than one pair. Those who love their sneakers can't imagine life without them.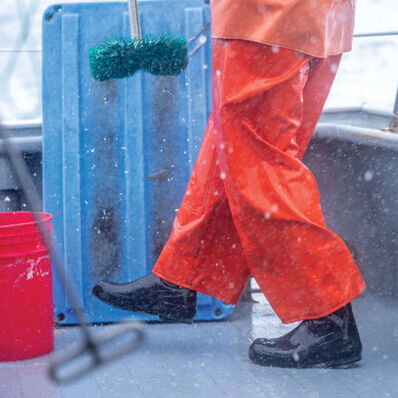 Alaska has its own sneaker, and it looks nothing like those we Lower 48ers or our Hawaiian compatriots wear. Nope, the XtraTuf Legacy Boots are so beloved and popular on the Last Frontier that they've been fondly dubbed the Alaskan sneaker. Like the "regular" sneakers in the rest of the country, you'll see the Alaskan sneaker being worn virtually everywhere–in the larger cities and small towns, on the tundra and in Native villages, on farms and in backyards, in the woods and on the beach.
And of course, on the commercial fishing boats. One might take a look at these so-called "Alaskan sneakers" and wonder what all the fuss is about. After all, unlike the traditional sneakers everyone else wears, they don't come in a dizzying array of colors and styles, although there are quite a few choices in height, calf width, insulation, toe, and more. And–let's be honest here–they're not exactly the most stylish boots you'll come across (although if we're being honest, let's admit that there are some downright hideous-looking sneakers out there, and we may have even owned a pair once upon a time).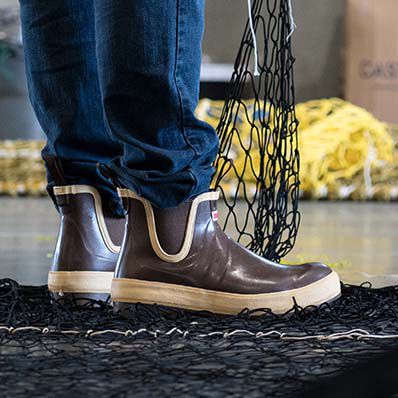 Unless of course, we're talking about the women's Legacy boot line! Now these are stylish as well as functional, as both the Salmon Sisters and Fishe Wear folks have had a go at these fishing boots. They look like no-nonsense, tall work boots made for fishing and/or wet weather…and they are. But turn the tops inside out and roll 'em down, and you'll be treated to scenes of puffins, mermaids, octopi, whales, and more cavorting around that inside liner on the Salmon Sisters boots. The boots with the beautiful Fishe Wear designs feature tarpon and grayling prints.
But, we digress. The "fuss" over Legacy boots and the reason for their huge popularity and fond nickname of Alaskan sneakers is…many things. Their comfort. Warmth. Being waterproof. No laces to fiddle with. Providing sneaker-like agility in a slip-resistant and even acid and chemical-resistant boot. These features are what make the Legacy boots fit for almost any terrain, weather, or job, from town to tundra, brewery to backyard, farm to fishing boat, and just about anywhere else.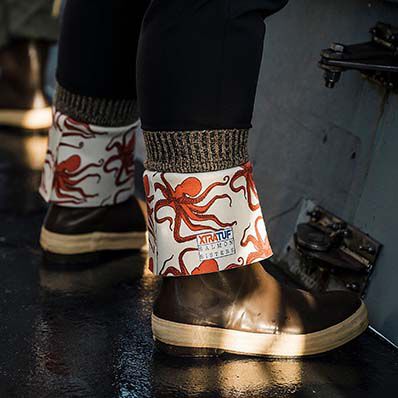 Don't Get Cold Feet
Including, of course, those violently pitching decks in the middle of a boiling sea in a blizzard or similar storm from hell. This is where the XtraTuf boots really have a chance to shine. Speaking of blizzards, XtraTuf has a Legacy-type boot for the winter commercial fishing crowd (or anyone who tends toward cold feet), the 12″ Elite Insulated Performance Boots, and the 15″ version. These boots were built specifically for cold-weather fishing and were designed to provide the protection and durability of the Legacy boots but with even more comfort for long days at sea or on the dock, thanks to their high-abrasion Spandura-covered 5mm neoprene bootie, which makes these boots comfort rated to -20°F.
They boast a breathable air-mesh lining and feature the same slip-resistant chevron soles, resistance to oil, chemicals, and acids, and are 100% waterproof, just like their Legacy counterparts.
It Isn't Always Blizzard or Monsoon Conditions on Deck
While Alaskan weather can be persnickety, the weather out on its seas isn't always terrifyingly awful, although rain can be frequent and mornings chilly, even in summer. For these not-quite-so-critical conditions, many commercial fishers sport a different version of the Legacy boots–the super popular 6-inch Legacy Ankle Deck Boots. These guys are simply short versions of the classic Legacy boots, with a couple of exceptions: they have elastic sides and convenient pull tabs for quick and easy on and off.
Totally waterproof and slip-resistant, these boots also have cushioned insoles with arch support to help fight fatigue and stress on the legs and back. They're the perfect all-purpose, all-season, wet/cold (and even dry!) weather boots. What could be better than the 6-inch Legacy Ankle Deck Boot? Choices! Like their taller cousins, these boots also come in a steel-toe version. How's that for safety on deck?
Life on the Boats
To the hardworking men and women on the commercial fishing boats, there's nothing quite like the sound of catch after catch sliding into their holds. Be it crab or fish they're hunting for, the days are long and the work brutal; nights are often interrupted and sleep stolen by ferocious storms and mechanical failures that must be fixed immediately…or else.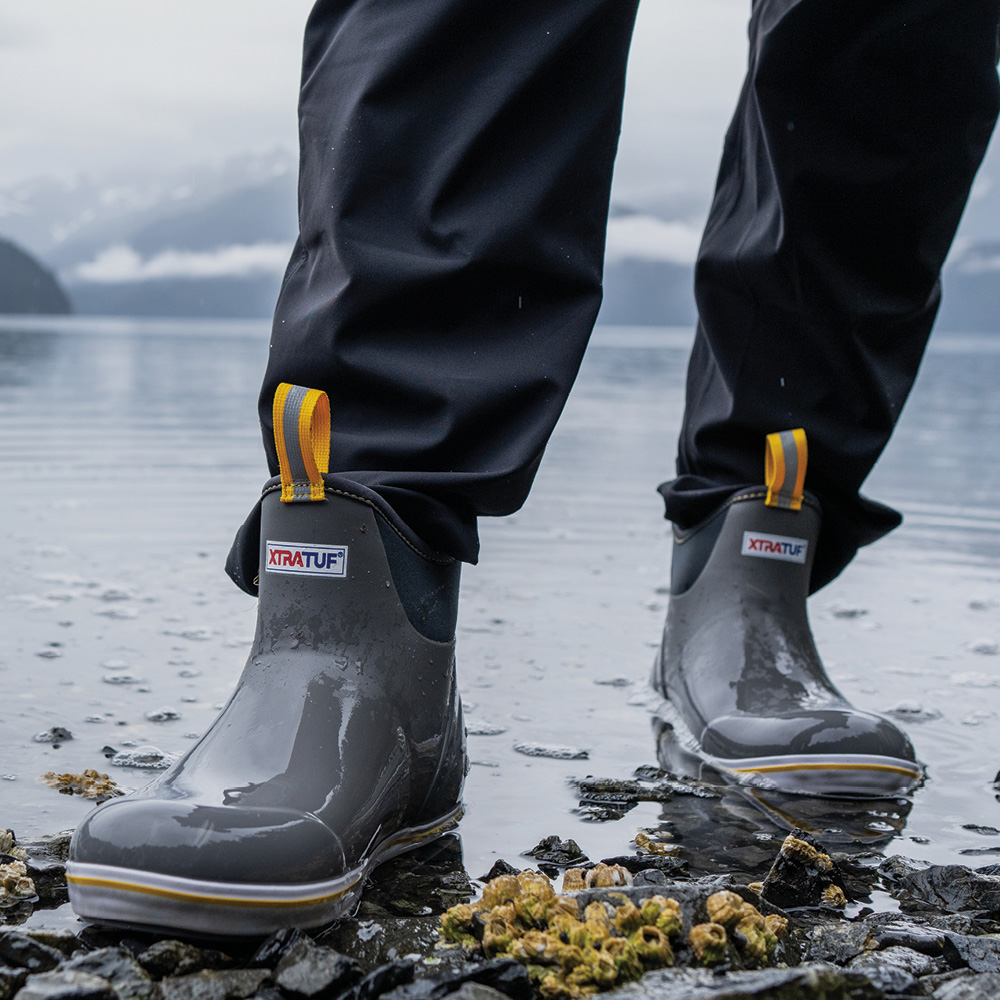 Sure, there are days when the sun shines, the sea is calm, and fishing is good, but everyone on board knows that that can change in little more than a heartbeat–and change very badly. Injuries are common and help a long way off, and when the sea's mood switches from smiling, tranquil beauty to monstrous beast spewing out cyclonic gales, the specter of death seems to never be far off, taunting the captain and crew as they fight for survival.
And yet, they keep fishing; season after season, day after day. Some people might call them crazy; we call them tough and dedicated. A lot–although admittedly, not nearly enough–of praise is given to our farmers and ranchers who also work long, hard days and take great financial risks to provide us with our meat and produce. And for that, we're certainly thankful.
But what about the folks working on the commercial fishing boats in Alaska and beyond? Seems they don't get a lot of kudos for their extreme dedication and back-breaking work. Let's be grateful not only for the ranching and farming families who provide us with meat and produce, but also for all those hardworking fishing families who provide us with the bounty of the sea.