Maintaining a sterndrive is essential for ensuring the longevity and performance of your boat. A sterndrive, also known as an inboard/outboard or lower unit, is a type of propulsion system that combines the power of an inboard engine with the maneuverability of an outboard motor. Properly caring for a sterndrive requires regular maintenance tasks such as changing oil and lubricants, cleaning and inspecting parts, flushing the cooling system, replacing seals and gaskets, and adjusting drive belts. In this article we will discuss seven important maintenance tasks you should perform on your sterndrive to help keep it running smoothly throughout its lifetime.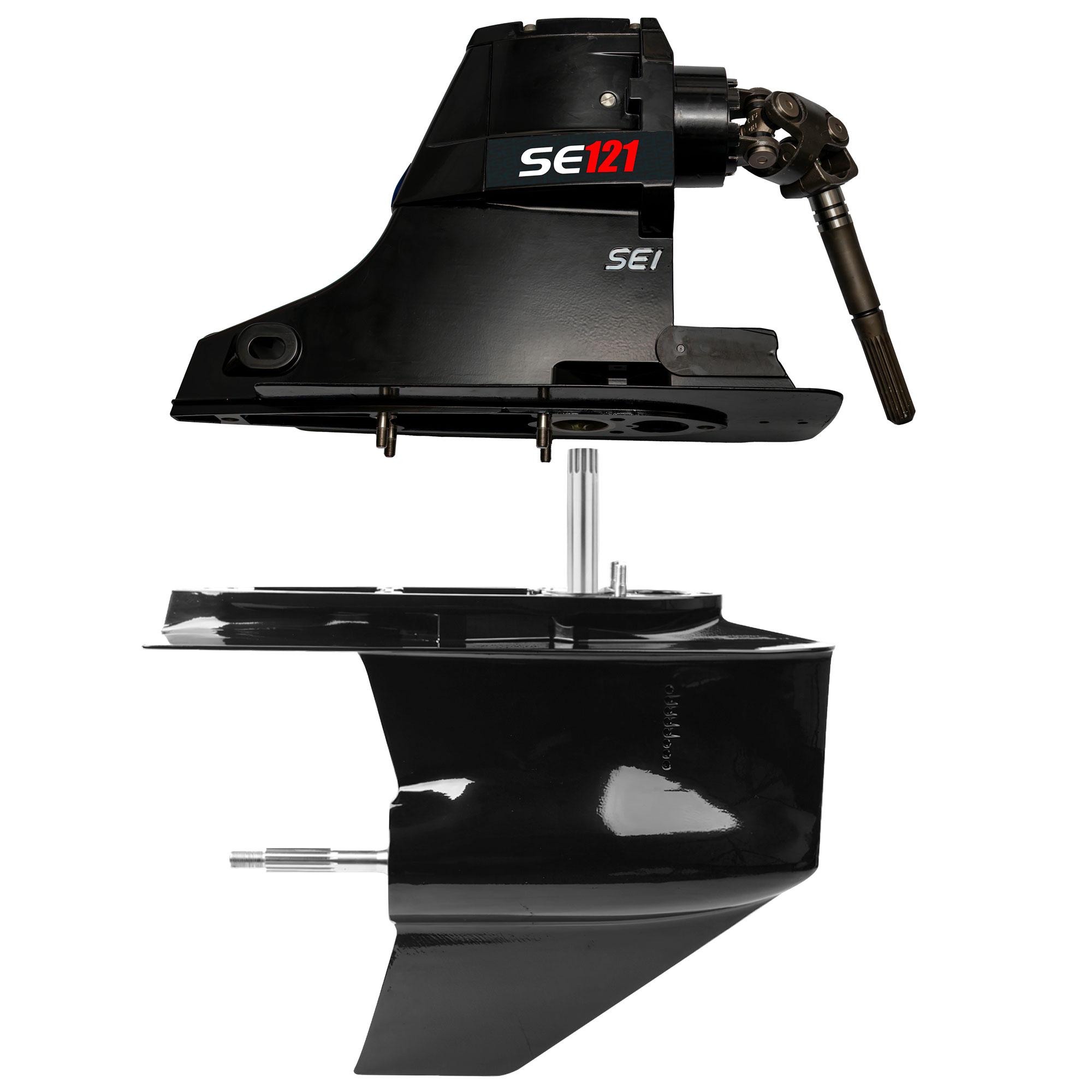 Cooling System Maintenance
The majority of stern-drive equipped boats have engines and stern drive units cooled by a raw water cooling system. However, if the boat is used in saltwater, this system is at high risk of corrosion. Keep your boat running smoothly by taking proper care of your cooling system.

One crucial task is to flush the cooling system with fresh, clean water to remove salts from the passages. For those maintaining a trailer boat, this task is incredibly easy. Hook up a source of freshwater to the flushing device on the engine or, even easier, use a flushing kit. With this simple step, you can drastically increase the lifespan and efficiency of your boat's engine. Use a salt removing product, like Salt-Away to ensure that there is no salt left that can cause corrosion
Keeping your boat engine healthy is important for your safety and the longevity of your vessel. It's recommended to check the raw water pump impeller yearly. Give it a gentle squeeze to make sure the vanes aren't hardening. If you notice any damage, cracks or loss of elasticity, replace it right away. For reusable impellers, use appropriate lubrication to grease the vanes lightly and insert it onto the shaft. Don't forget to use heavy-duty marine grease to lubricate the shaft for smooth removal. Some seasoned boaters replace the impeller with a new one every season – a smart preventative measure. Keep your engine purring and your boat ready for adventure.
How to Change Your Boat's Coolant in a Few Easy Steps
Before Changing Fluids, make sure you bring your engine up to temperature. Properly lubricating your sterndrive is key to keeping your boat in top condition. Start the engine and let it run until it reaches normal operating temperature – take a short cruise or use a water hookup in dry dock, if recommended by the manufacturer. It's important to have the oil hot before draining for two reasons: hot oil flows better and allows for a more complete oil change, and heating and agitating the oil helps remove contaminants. Remember to always have water circulating through the engine and lower unit to avoid damage to the water pump impeller. Follow these steps and your sterndrive will be well-lubricated for smooth sailing.
If your boat has a heat exchanger, you need to maintain your cooling system properly. Just like cars, freshwater cooling systems need occasional testing to make sure the coolant protection is up to par. Simply use a commonly available tester to check.
If the coolant is several years old or inadequate, it's time to drain, flush, and refill with new coolant. While coolant doesn't wear out quickly, it does wear out eventually. The additives that prevent corrosion lose their effectiveness over time and need replacing for optimal protection. Backflush the freshwater circuit to remove any sediment before replacing the coolant with a recommended water and antifreeze mixture. Always mix the antifreeze and water thoroughly before pouring it into the engine.
Lubricate All Points on the Engine and Tilt / Trim that May Corrode
Make sure to grease these key areas of your boat: gimbal housing, drive shaft, and tilt/trim mechanism. Not only does lubrication prevent wear and tear, but it also adds a layer of water resistance to stop corrosion. Just remember, when lubing greasable points, use a marine waterproof grease as directed by the manufacturer. Don't forget about control cables – non-Teflon lined ones should be lubricated a few times each year to avoid corrosion. But Teflon-lined cables should never be lubed. Always follow the manufacturer's guidelines to ensure no grease may impair normal operation.
How to Properly Lubricate Your Sterndrive
Did you know that impurities in your lubricating fluids can harm your engine and stern drive when your boat sits idle? Even though the impurities are burned off during normal operation, it's important to keep the lubrication clean and pure. Fill from the bottom hole until sterndrive lubricant starts flowing from the fluid level plug. This ensures a full fill and eliminates any pesky air bubbles. Don't miss this important step!
Changing Your Boat's Fuel Filters
If you own a boat, it's crucial to familiarize yourself with the process of changing the fuel filters. Most boats have two filters, with the first being between the fuel tank and the engine. This unit typically includes a combustion fuel filter and a water trap. The second unit is an inline filter that's usually mounted on or near the engine, similar to automotive-style filters. To change them, it's essential to be prepared to trap and contain the fuel that may leak out when removing the bowl.
Inspect Belts and Hoses for Cracks or Signs of Wear
Don't let a burst hose or slipping belt ruin your boating experience. Regularly inspect your hoses and belts for any cracking or signs of wear. Pay extra attention to those hoses that are regularly exposed to high heat and ensure that hose clamps are tightened and corrosion-free. Check your belts for any signs of slipping, burning, or cracks. If you notice any damage, replace them immediately – and don't forget to carry spares for emergencies. Keep your boat running smoothly and enjoy a worry-free day on the water.
Replace Anodes As They Dissolve
Protect your boat and boat motor by replacing anodes. Without enough zinc, metal parts may rapidly deteriorate, leading to expensive repairs. Most stern drives have an anode attached to the lower unit, and additional anodes protrude into the cooling system. Follow manufacturer instructions and ensure proper zinc levels to prevent costly damage.
Protecting Your Boat — In Summary
While you may want to put off maintenance for another day, it is crucial to take care of your boat. The last situation you want to be in, is to be stranded out in open water. Create a maintenance calendar and try to tackle some of these projects in the off-season. You may be wet and cold working on your boat, but will be thankful come warmer weather when you are out enjoying your boat rather than working on it. If you run into a situation where you are in need of a replacement upper or lower sterndrive unit, check out Go2marine. Sterndrive Engineering manufacturers replacement outdrive and you can typically get a great deal on them at Go2marine.