Are you searching for an efficient solution to eradicate salt stains and buildups from your boat and boat equipment such as cooling system, cleats, and fiberglass parts?
Salt-Away washing concentrate is the answer! The carefully formulated blend of ingredients will tackle stubborn salt stains so you can enjoy crystal clear waters. And, it works efficiently on virtually any surface. Count on Salt-Away to keep your vessel in top shape.
Salt-Away uses a water-based 100% – Non-Hazardous, Non-Toxic, and Biodegradable blend of ingredients that dissolves salt crystals from surfaces. Water alone cannot do this.
Salt-Away flushes salt from inboard/outboard engines.
Many boats have engines using a fresh water closed cooling system. Some boat owners do not realize that the raw water side of the engine, where salt water passes through the heat exchanger and out the exhaust manifold, can have major salt corrosion problems. Without proper maintenance, this corrosion leads to expensive repairs.
Salt-Away has many uses:
Engine flush – Can correct engine over-heating by breaking down layers of salt accumulation
Cleaning diving & fishing gear
Seaside home maintenance – A/C units, patio furniture etc.
Power & Sail boat salt removal – sails, sail covers, line, hardware etc.
Boat trailer and trailer brake wash
Salt-Away is economical to use with a dilution rate of 500 to 1 ratio.
The Salt-Away SA32M Combo Kit combines a one quart Salt-Away concentrate bottle and a 6 oz capacity, re-usable Mixing Unit. The Salt-Away Kit is recommended as the "Starter Kit" for the Salt-Away salt removal product line.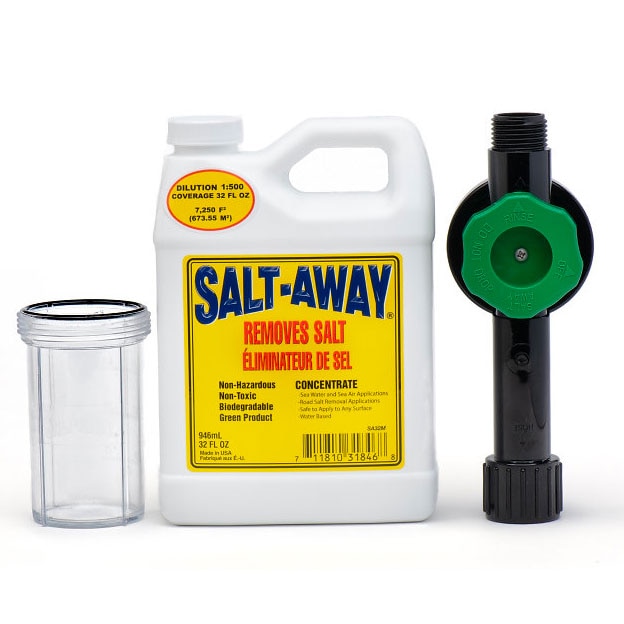 6 oz Salt-Away concentrate holding capacity
Mixing Unit connects to

Garden hoses
Pressure Washer in lines