Upgrade Your Boat's Performance with Pertronix Electronic Ignition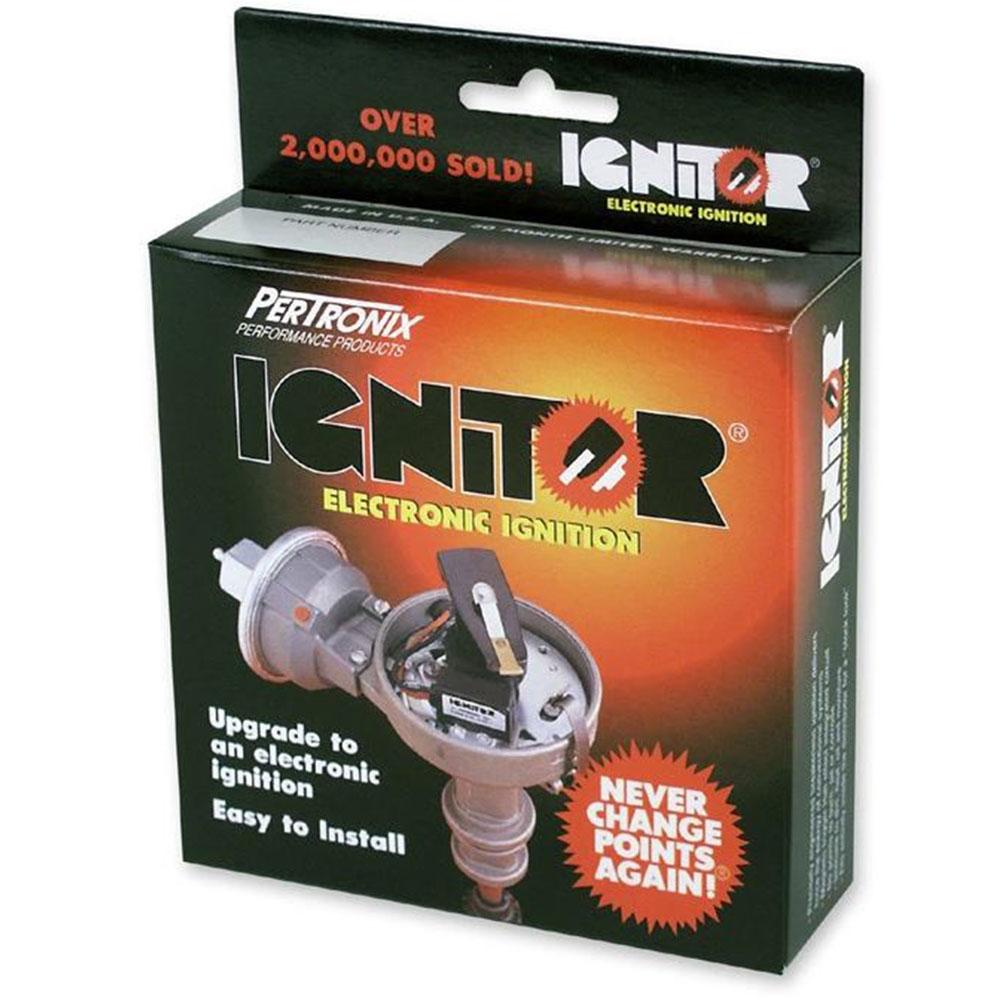 Pertronix Electronic Ignition
Say goodbye to unreliable ignition systems that reduce engine performance. Swap out your old points, condenser, and breaker mounting plate and install the new Flame Thrower Module for an easy upgrade to a modern, high-performance, maintenance-free ignition system. Not only will installation be a breeze, but you can also add a Flame Thrower coil to increase voltage from 24,000 to 45,000 volts. Enjoy quicker starting, better overall performance, and increased fuel economy with Pertronix Electronic Ignition Conversion Kits. These kits replace ignition systems in Mercruiser, Mercury, Mallory, Volvo, Delco and Prestolite.
Introducing the Ignitor, the game-changing electronic ignition system that has been trusted for over forty years in various applications such as race cars and tractors. Say goodbye to troublesome factory electronic ignitions and breaker points with this reliable and self-contained system.
It has been deemed as the "stealth" ignition due to its undetectable presence under the distributor cap, eliminating the need for a "black-box" that clutters the engine compartment. For optimal performance, pair the Ignitor with FlameThrower 40,000 volt coils to deliver twice the voltage to the spark plugs for improved horsepower, fuel economy, and spark plug life.
Pertrnoix 40,& 45K Volt Canister Coils
Pertronix 40,000 & 45,0000 volt Flame-Thrower canister coil is the perfect addition to the PerTronix Ignitor breakerless ignition system, but it can also benefit any distributor type inductive system. With a higher voltage, this coil allows for larger spark plug gaps, resulting in added power, a smoother response, and better fuel economy. Plus, installation and wiring are drastically simplified thanks to internal resistance.
Flame Thrower Ignition Coil, 40,000 Volt Coil, 4 & 6 Cylinder Engines, 40511
Flame Thrower Ignition Coil, 8 Cylinder – 40 K Volts
Flame Thrower II Coil 4, 6 and 8 cylinder engines – 45K Volts
For street-driven vehicles, Pertronix oil-filled coils provide excellent heat control, while their epoxy-filled coils offer superior winding support for high vibration environments in off-road vehicles and boats. Upgrade your boat today for a more powerful and efficient ride with their 40,000 volt canister coils.
The Ignitor boasts a 2:1 improvement over "points" in current fall time, thanks to its rotating cobalt magnets that trigger a Hall Effect integrated circuit. With no points to burn and no moving parts to wear out, the Ignitor is built to last with its epoxy molding that makes it impervious to dirt, oil, grease, and moisture.
Not only does the Ignitor offer stable timing with no need for adjustment, but it can also trigger most CD ignitions. It's available for 6 and 12-volt negative and positive ground systems and is legal in all 50 states and Canada (C.A.R.B. E.O. #D-57-22).
Best of all, the Ignitor is guaranteed for 30 months, and Pertronix stands behind this product. Some kits feature lobe sensing technology that does not utilize rotating magnets. Upgrade your boat ignition system today with the Ignitor.
Get the Professional Results You Deserve
When you choose Pertronix® electronic ignition components, you can be sure you are getting the professional results you deserve. We are committed to providing only the best components for your boat, so you can be sure that you are getting the quality and reliability you need to keep your boat running smoothly. Make the upgrade today and experience the difference our electronic ignition components can make.